If you're on the hunt for the perfect magnetic lashes in England, I highly recommend trying out these brands' Magnetic Lashes.
Our top picks for the best magnetic lashes of 2023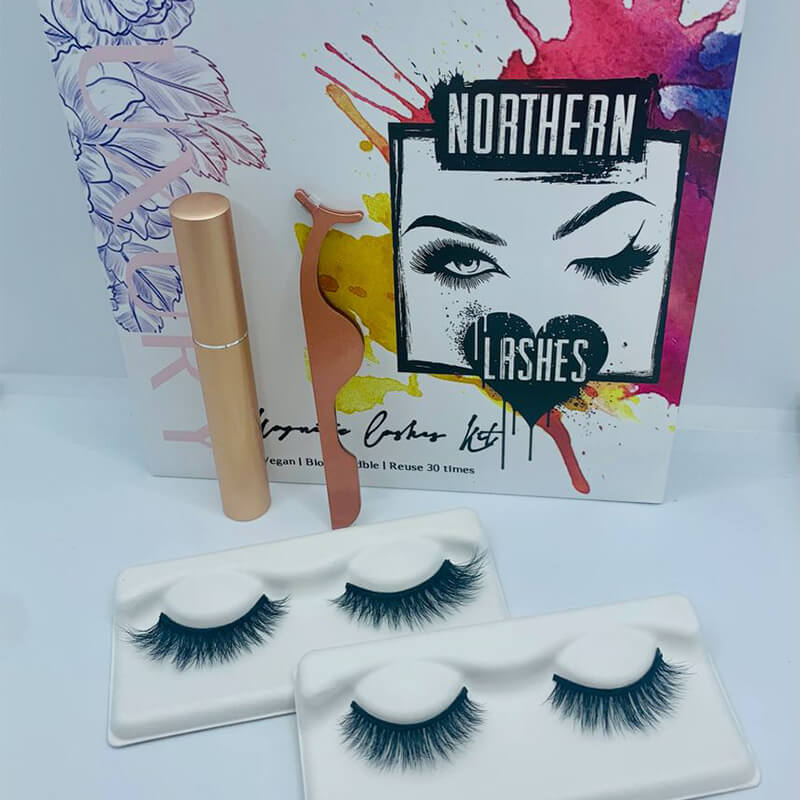 1. NORTHERN LASHES Magnetic Lashes
Do you want a more environmentally friendly alternative to traditional faux lashes? Look no further than NORTHERN LASHES, the first eco lashes brand in England. Their magnetic lashes are made of plant fiber, offering a natural and cruelty-free option. And their packaging is completely biodegradable, reducing waste and helping to protect the planet. Switching to NORTHERN LASHES not only gives you convenient and long-lasting lash options, but also allows you to feel good about your beauty choices. Make the switch today and join the movement toward sustainability.
2.Lola's MAGNETIC LASH & LINER KIT
The Lola's Lashes Magnetic Eyeliner and Eyelash System is the most advanced in the world, allowing for easy, mistake-proof application. Simply apply the magnetic eyeliner as you would any other liner, allow it to dry, and then place the magnetic eyelashes on top for an instant glamorous look. No more struggling to perfectly align your lashes, or worrying about them falling off during the day.
Say goodbye to the hassle and hello to Eylure's Pro Magnetic Lashes. These innovative lashes use tiny magnets to attach securely and seamlessly to the specially formulated magnetic eyeliner. The result is a faux lash look that takes just minutes to apply and will stay put all day (and night) long. And because the eyeliner is smudge-proof and safe for daily wear, you can rock your magnetic lashes every day without having to worry about them budging or causing irritation. Say goodbye to the struggle of traditional falsies and hello to Eylure's Pro Magnetic Lashes.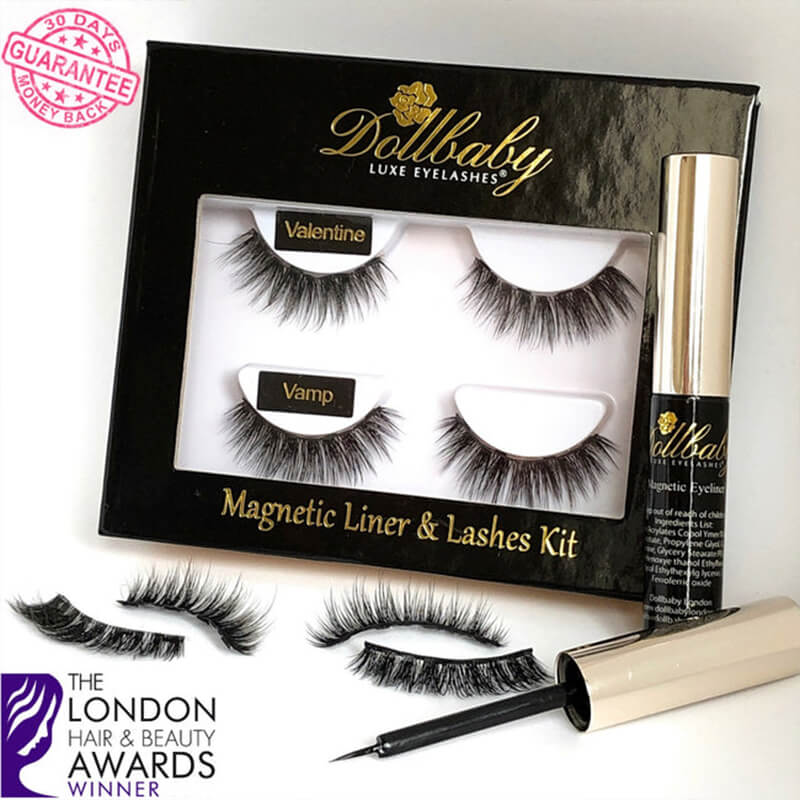 4.Dollbaby London Magnetic Lashes
The Dollbaby London Magnetic Eyeliner and Lashes kit include a special magnetic eyeliner, which serves as a base for the magnetic lashes to attach to. No more struggling with glue – simply swipe on the liner and let it dry, then hold the lashes up to your eyes to easily snap them into place. And, as an added bonus, these ultra-slim magnets provide a more natural look than bulky strip lashes. Make your beauty routine hassle-free with the Dollbaby London Magnetic Eyeliner and Lashes kit.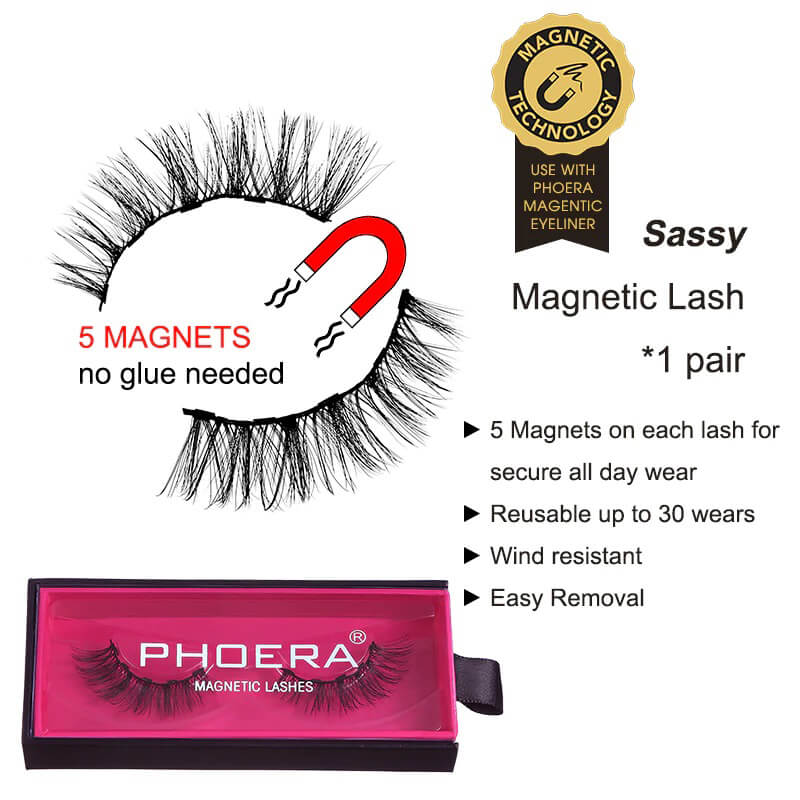 5.Phoera Cosmetics Magnetic Lashes
Looking for a new way to enhance your beauty routine? Try PHOERA magnetic lashes! These innovative lashes use five magnets for secure, all-day wear. Plus, their professional design ensures a natural, full appearance that turns heads without looking overdone. No messy glue is required – just align the lashes with your natural lash line and let the magnets do the rest. Say goodbye to struggling with traditional falsies and hello to effortless glamour with PHOERA magnetic lashes. Give them a try today and see the difference they can make in your beauty routine!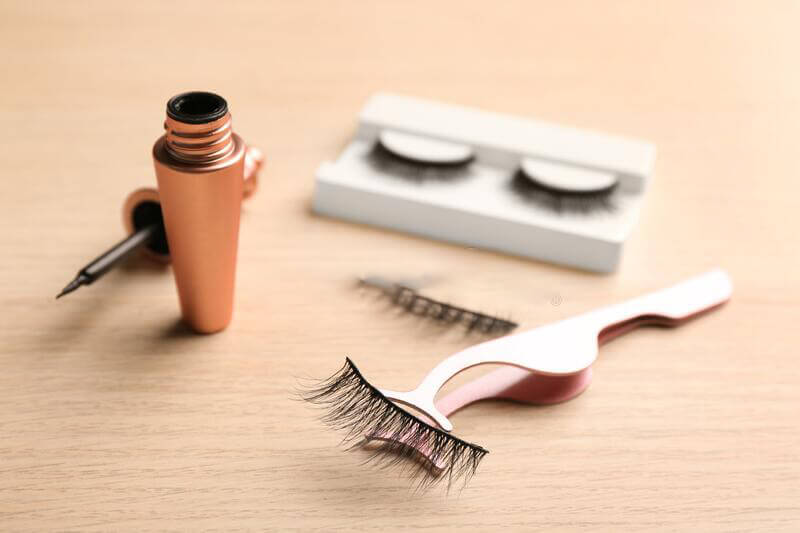 Magnetic eyelashes have quickly become a popular alternative to traditional false lashes. Instead of using adhesive to attach the lashes, magnetic eyeliner is applied like regular eyeliner and contains tiny magnets. The lashes then easily attach to the magnetic liner, providing a secure hold without the potential irritation of glue. They are also simple to remove and can be reused multiple times with proper care. Some even claim that since no adhesive is used, these lashes are more comfortable and natural-looking than traditional falsies. Whether you're tired of dealing with messy glue or just looking for a new lash trend to try, give magnetic lashes a try for an easy and effective way to enhance your eye look.
How do Magnetic Eyelashes Work?
It's actually quite simple. Magnetic eyeliner is applied just like traditional eyeliner, but it contains tiny magnetic particles. The lashes themselves have tiny magnets on the base, which attach to the magnetic eyeliner and stay in place all day. No need for messy glue or meticulous placement – just apply the liner and let the magnets do their job. Plus, because there's no added weight from the adhesive on the base of the lashes, they feel more comfortable and natural than traditional false lashes. So go ahead and give magnetic eyelashes a try – you'll be amazed at how easily they apply and stay put!
Are Magnetic Eyelashes Safe?
Many women love the dramatic look of false eyelashes, but the process of applying them can be tedious and uncomfortable. However, magnetic eyelashes offer an alternative that is both convenient and safe. But is it safe to have magnets near your eyes? The short answer is yes. These lashes use tiny magnets to attach to each other, eliminating the need for adhesives or additional tools. And because they don't require any harsh chemicals to adhere, they are much gentler on the delicate skin around your eyes. Additionally, because they don't rely on adhesive glue, there's less risk of allergies or irritation. So for those looking for a quick and easy way to enhance their lashes, magnetic options are definitely worth considering. Plus, with their chic and minimalist design, they offer a subtle yet eye-catching touch to any makeup look. So embrace your inner lash queen and go ahead – give magnetic eyelashes a try!
How to Apply Magnetic Eyelashes ?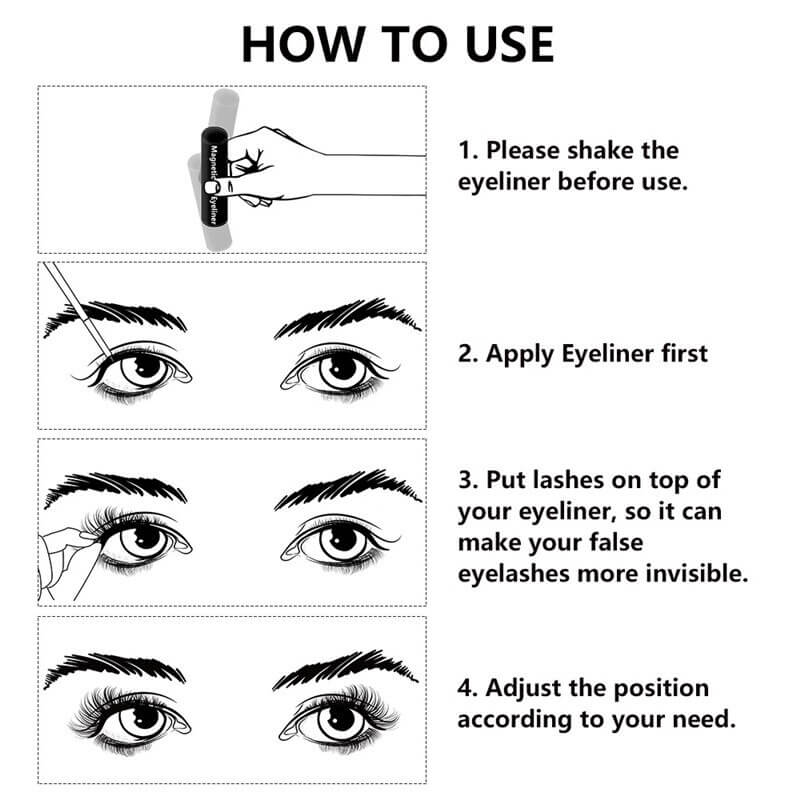 Magnetic eyelashes offer the same dramatic look without glue, making them easier to apply and remove.
Firstly, carefully apply a thin line of magnetic eyeliner to your upper lash line as you would with any liquid liner.
Secondly, take one-half of the magnetic eyelash and hold it against the eyeliner, pressing lightly until it firmly attaches.
Finally, repeat on the other eye with the other half of the lash. Voila! You now have gorgeous, faux lashes without any mess.
Keep in mind that you may need some practice before getting a flawless application – it's always helpful to have a friend assist with placing the lashes on for your first time. Now go flaunt those fabulous lashes!
How to Remove Magnetic Eyeliner ?
Removing magnetic eyeliner can be trickier than traditional liquid or pencil liners, but with the right steps, it's quick and easy.
First, saturate a cotton pad with waterproof eye makeup remover and hold it on your closed eye for about 20 seconds to loosen the liner.
Second, use your fingertip to gently wipe in small circular motions, starting from the inner corner of your eye and moving outward. Avoid rubbing too hard, as this can damage the delicate skin around your eyes. If some residue remains, dampen a cotton swab and use it to gently remove the leftover liner.
Finally, finish off with micellar water or hydrating eye cream to refresh the skin.
With these steps, magnetic eyeliner will be completely removed without tugging or pulling at the delicate eye area.