Magnetic lashes have taken the beauty world by storm, offering a hassle-free alternative to traditional lash glue.
Using tiny magnets, these lashes attach to your natural lashes for a seamless fit.
Not only are they easy to apply, but they also provide longer-lasting wear and can be reused multiple times.
Plus, with a variety of styles and intensities available, there's something for every occasion. So Are magnetic lashes safe when you can achieve beautiful results with magnetic lashes?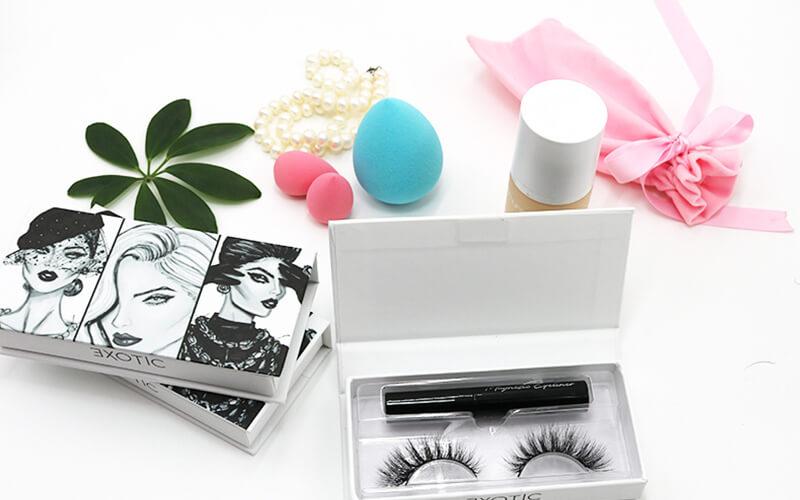 Magnetic lashes are a new, innovative way to apply false eyelashes.
Instead of using adhesive, these lashes use magnets to attach to your natural lashes. It can create a seamless look.
They can be applied quickly and easily, with no mess or fuss. Plus, they're completely reusable. It can last for weeks before needing to be replaced.
Some people may have concerns about the lash magnets affecting their eye health. But as long as you use them properly and remove them before going to sleep, there should not be any issues.
So say goodbye to glue and messy application – magnetic lashes are the next revolution in beauty enhancement.
What Is Magnetic Eyeliner?
Magnetic eyeliner may sound like something out of a science fiction movie. But it's actually the latest trend in beauty.
Unlike traditional adhesive eyeliners, magnetic eyeliners contain tiny magnets. It allows for the easy application of false lashes.
Simply line your eye with the magnetic liner, wait for it to dry, and then place the magnetic false lash onto the line – no glue required!
Not only does this make application easier and less messy, but it also allows for more flexibility in how you apply the lashes.
| | |
| --- | --- |
| Ingredients | Water, Styrene/Acrylates Copolymer, Propylene Glycol, Beeswax, Triethanolamine, PEG-100 Stearate, Phenoxyethanol, Copernicia Cerifera (Carnauba) Wax, Ethylhexylglycerin, Iron Oxides |
Are Magnetic Lashes Safe?
Many people are hesitant to try magnetic lashes. Because they worry about the safety of putting small magnets near their eyes.
However, rest assured that magnetic eyelashes and eyeliners have been thoroughly tested. It can be 100% safe for people to use.
The magnets used are very tiny and do not pose any risk to the delicate skin and tissue around the eyes.
In fact, some experts argue that using magnetic lashes is actually gentler on your natural lashes than traditional glue-on false lashes. Because there is no sticky residue or risk of damage from accidentally pulling out your own lashes.
So for a long-lasting, effortless look without any safety concerns, give magnetic lashes a try.
They just might become your new go-to beauty product.
Does Magnetic Lashes Hurt Eye?
While magnetic eyelashes and liners may seem like a convenient alternative to traditional false lashes, it is important to remember that they do pose some risks.
Before applying these products, make sure you thoroughly clean and dry your eyelids to eliminate any debris that could interfere with the magnets attaching properly.
Also, be careful not to pinch or pull on your delicate eye area as you use the magnets to apply the lashes. And of course, if any redness or irritation occurs, discontinue use and consult with a medical professional.
Though overall they may have fewer potential dangers than traditional false lashes, it is still crucial to use caution when using magnetic eyelashes and liners.
With proper care and attention, these products can make for a fun addition to your makeup routine.
But always remember to prioritize the health and safety of your eyes above achieving the perfect look.
Safe Tips To Use Magnetic Lashes
When it comes to applying magnetic lashes and liners, cleanliness is key.
Before starting your beauty routine, make sure to wash your face and hands thoroughly to minimize the risk of infection.
In addition, ensure that the skin around your eyes is completely dry before beginning application.
Once you're ready, carefully follow all instructions provided by the manufacturer for the proper use of the product.
Doing so will not only help you achieve a flawless look but also protect your delicate eye area from potential harm.
If you're going to wear eye shadow and lashes, make sure that they're applied first before using magnetic liners.
Apply the magnetic eyeliner as you would with any liquid liner, ensuring that the line is thick enough for the lashes to attach to.
Place the magnetic lash on top of your natural lashes, adjusting as necessary for a seamless fit.
The magnets will quickly secure the false lashes in place, giving you bolder and fuller lashes without the hassle of traditional glue.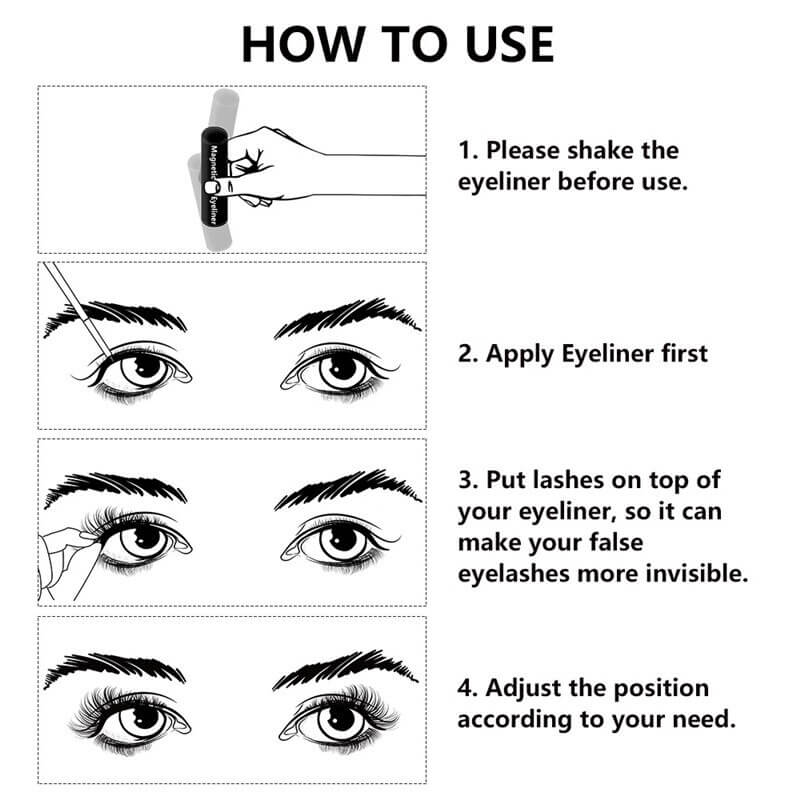 How To Remove Magnetic Eyeliner?
Are you struggling with removing your magnetic lashes? Are they just not coming off? Don't worry – we have some tried and true tips for getting those pesky falsies off.
Use a little bit of oil-based makeup remover on the lash line to break down the adhesive.
Gently lift the lashes off, starting from the outer corner and working your way in. If there is any remaining adhesive, use tweezers or a Q-tip dipped in remover to carefully remove it.
Make sure to clean your lashes with a mild cleanser before storing them for future use.
With these simple steps, magnetic lash removal will be a breeze! Just remember to be gentle and go slowly – no one wants to accidentally pull out their own lashes in the process.
If you are looking for magnetic lash vendors, we will help you. We are a Professional Lash Vendor and well-established False Lashes Manufacturer based in Pingdu, China.
With 10 years of effort, we have become one of the most excellent false lashes manufacturers and wholesale lashes vendor in China. With a factory covering an area of 15,000㎡, we are able to produce 10 million pairs of false lashes each year.
Right now, ODM and OEM orders are supported by an excellent team and professional experience. We provide you with customized services to create new lashes models, new lashes colors, and private-label lashes packages.