Eyelash extensions are an easy way to add length and volume to your natural lashes. It can make you look more awake and beautiful in less time.
if you're interested in getting eyelash extensions but aren't sure how they work or whether they'll look good on you.
This guide tells you everything: what eyelash extensions are, how eyelash extension work, and the best methods of applying them.
And there are tips for taking care of your new lashes once you have them!
For your total-look False Lashes brands, do not hesitate to contact LEVI Lashes online. We have lots of eyelash extensions. That will help you get the eyelash appearance you want to desire it.
What Are Eyelash Extensions?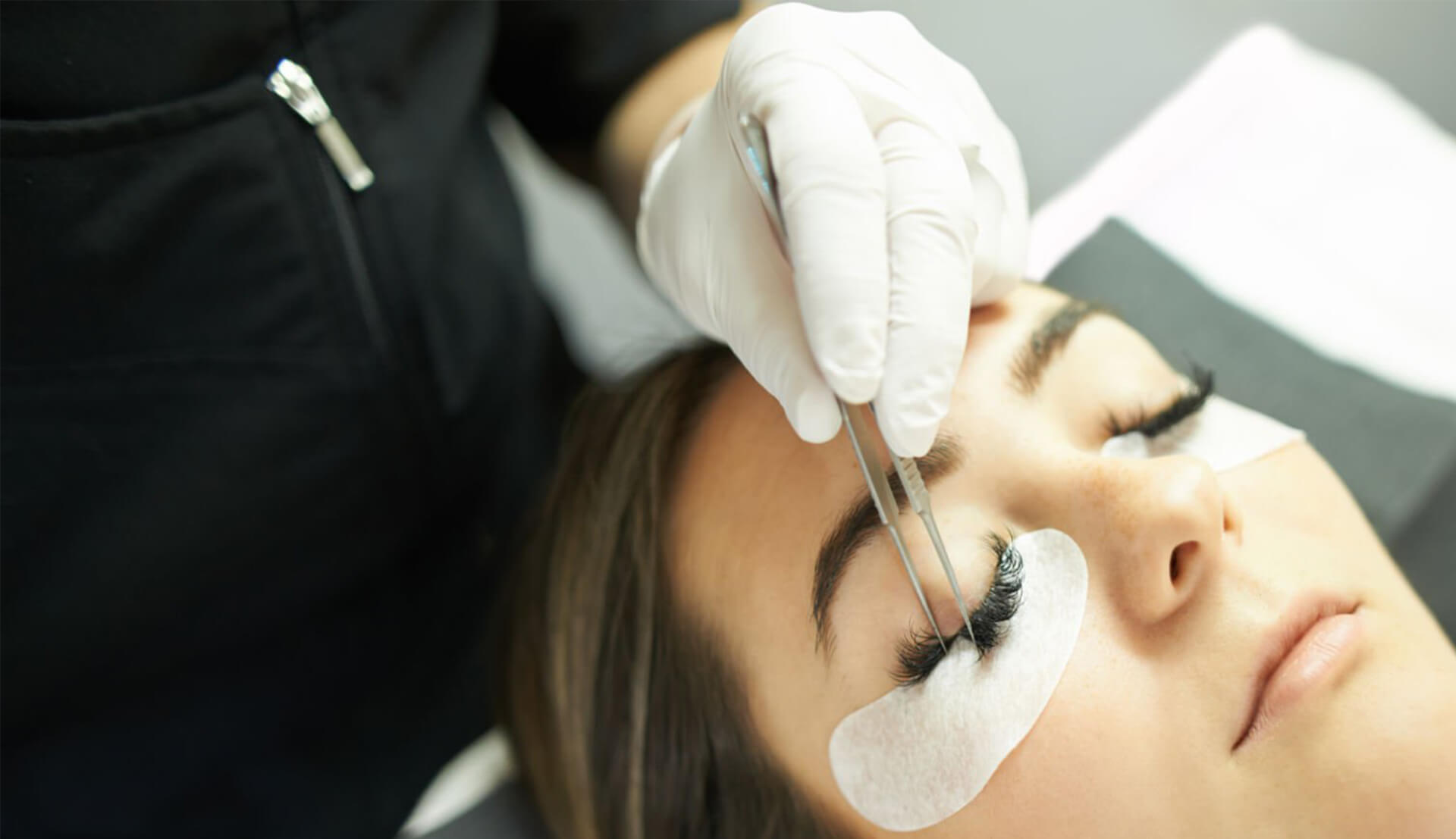 Before now, most people regarded eyelash extensions as a cosmetic, rather than a functional component of the eye.
With the help of eyelash extensions, eyelashes are becoming a more popular trend in the beauty industry.
The purpose of this process is to add length and thickness to your natural lashes. And they look fuller and appear to grow overnight.
Most women who have used this procedure have reported that their lashes had grown longer than before this procedure was done on them!
Eyelash extensions are artificial individual eyelashes. You or your stylist can apply strand by strand to your existing lashes. It can make your eyes appear more attractive and appealing.
Fixing these extensions takes careful application using unique semi-permanent glue. This eyelash extension glue does not irritate or defect the natural lash.
These eyelash extensions will be different depending on their thickness, lushness, and how curly they are.
Their beautiful length makes your lash look fuller, bolder, and darker, even without wearing mascara.
Types of Eyelash Extensions Application

Eyelash extensions can frame the eyes and make them appear larger.
And they can also help people who lack lashes. There are many types to apply them, so you must research them before choosing the best technique.
There are three most commonly used eyelash extension types: classic, volume, and hybrid.
| | | | |
| --- | --- | --- | --- |
|   | Classic Eyelash Extensions | Volume Eyelash Extensions | Hybrid Eyelash Extensions |
| Application | 1:1 | 1:X | 1:X+1(Mix Classic Lashes and Volume Lashes) |
| Appearance | Natural | Dramatic | Fluffy |
| Spend time to Apply | Long | Short | Longest |
| Length | 5-15mm | 5-15mm | 5-15mm |
| Curl | J, B, C, D, D+, L | C, D, D+ | C, D, |
| Cost | Normal | Higher | Highest |
● Classic Eyelash Extensions
The classic eyelash extension type is a method used to apply an individual lash extension to your natural lashes.
This application is a very natural, simple, and dapper lash extension. Though classical applications may take up to one-half hours, they are less expensive than others.
However, they appear more natural on you than other lashes extension. In addition, it blends with your beauty if you like simple fashion.
LEVI Classic mink-fiber lashes extensions are premium lashes.
It can give both eyelash technicians stress-free fixing and clients a natural look. They are knot free and perfect on you.
We have matt and shiny styles which range from 0.03mm to 0.25mm.
● Volume Eyelash Extensions
Volume Eyelash Extensions can give you the illusion of fuller, thicker lashes. Applying volume eyelashes are a bit more complex than classic lashes. Then it's important to find a qualified technician with experience with this method.
When done correctly, volume lashes can look stunning. They can give you the appearance of naturally full and thick lashes.
If you're considering getting eyelash extensions, you ask your technician about volume lashes and whether they would be a good option.
Volume Lashes Extensions type makes you look bolder and have longer, darker-looking eyelashes. Volume Lashes Extensions are in different dimensions, from 2D to 20D designs.
You will learn more about these dimensions later in this article.
These lash extensions are the best if you prefer a showy outlook. You need a creative and skillful technician to fix this kind of lash extension not to look weird. Also, remember that it involves longer appointment hours and a high cost for fixing.
Get your volume lashes from LEVI Lashes. Our mega lashes are stable curvature with clean roots. Their lengths are from 8mm to 18mm with some that are mixed.
● Hybrid Eyelash Extensions
Hybrid Eyelash extensions are made up of volume and classic lashes, so you get the best of both worlds!
They're perfect for those who want a natural look with a little extra oomph. These lashes have been designed to add length and volume to natural eyelashes.
You can apply these lashes to lengthen, thicken and add length to your natural eyelashes without eye makeup.
Though it may appear a bit extravagant, it will look pretty. Most intermediate celebrities prefer these lashes to Volume lashes because it's neither dull nor showy.
What Eyelash Extensions Styles Are There?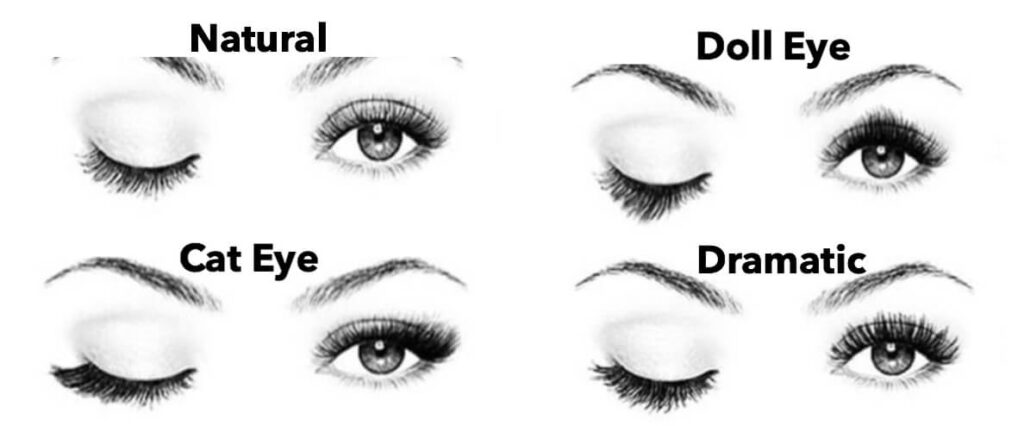 There are many different eyelash styles available. Your style will depend on your preferences and the look you strive for.
● Natural Eyelash Extensions
Natural Eyelash Extensions are the most popular style among women. They are easy to apply and can be worn with or without mascara. The natural look is very natural, giving you the appearance of a cat lash extension.
Natural eyelash extensions may look a bit longer at the outer corner. However, they will fit your eyeliner curvature after proper application.
Natural eyelash extensions stand out among others as they boost the beauty of your existing eyelashes.
You may not find them applicable if you desire a more stunning appearance.
● Doll-Eye Eyelash Extensions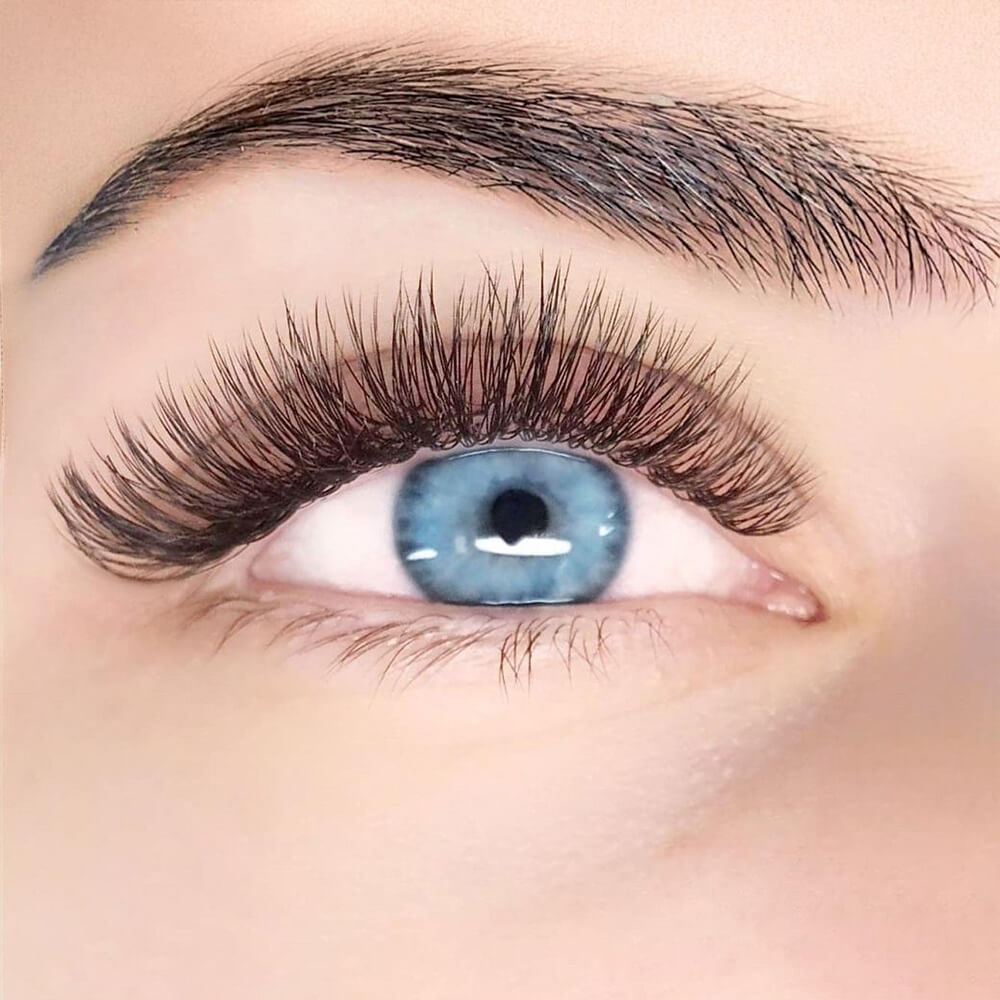 Doll-Eye Eyelash Extensions are long lashes that make your eyes look larger.
They have a major concentration of lashes on the center of the eyes that enhance the beauty of your eyes.
The effect is quite striking! Doll-Eye Eyelash Extensions are usually used by women who want bigger and larger eyes
Cat Eyelash Extensions has longer lashes on the outer eye corner. You can apply for this extension if you have rounded eyes that are not distant from one another.
You can also use it to make your eyes look slimmer, giving them a more defined shape and appearing more awake.
The extensions are relatively lightweight and easy to apply. You can do it yourself without any experience in eyelash extensions.
● Dramatic Eyelash Extensions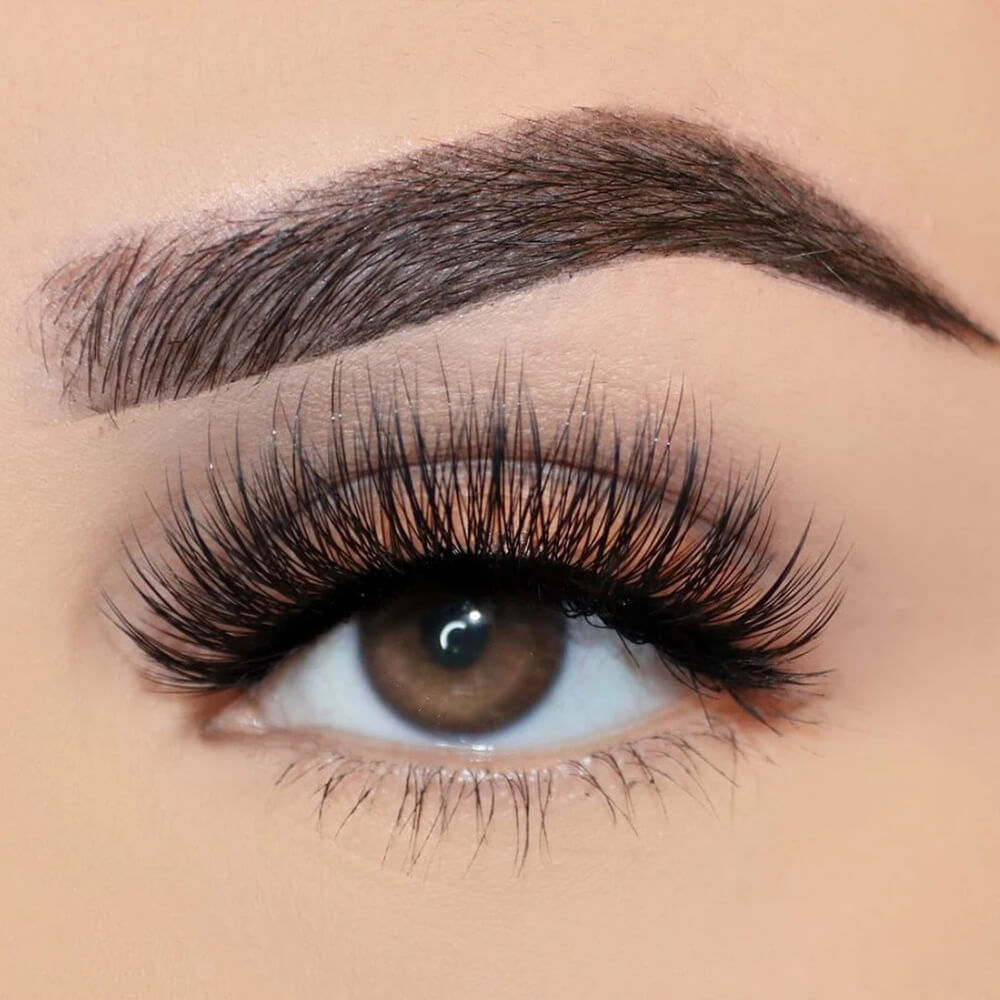 Dramatic eyelash extensions are the longest type among the four types.
This type can make your natural lashes a drama and glamour. when you are at a party or nightclub, you will find people prefer this type.
How Do You Choose The Right Eyelash Extensions?
If you want to add some drama to your eyes, eyelash extensions are a great way to do it.
These lashes can be used in many different ways and have various looks.
If you're considering getting them, here are some things to consider before deciding.
● Eyelash Extension Length
How long do you want your eyelashes to be? Extensions come in various lengths so that you can choose the best suits your needs.
5-10mm Eyelashes Length: It is closer to a human's natural eyelashes. If you like natural lash styles, this length is perfect for you.
11-14mm Eyelashes Length: Medium Length. This length is more suitable for cat eyelash styles, if you go on a date with this, the length is perfect.
Above 15mm Eyelash Length: Long. This length belongs to the dramatic eyelash extension range. It will be often chosen when people go to parties.
The length of an eyelash extension is determined by the length of your natural lash and the desired look.
You may want to go for a more dramatic look, or you may want to achieve an elegant, natural finish.
To fulfill any of these desires, you need to consider these factors: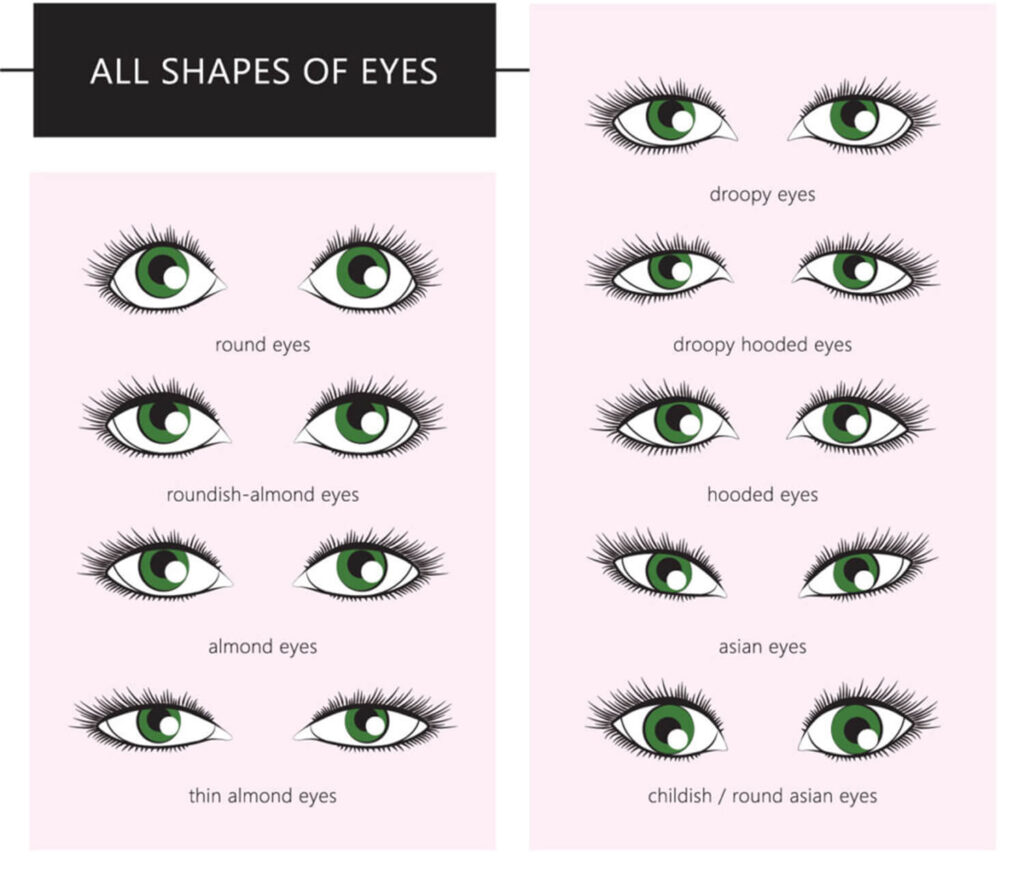 The first thing to consider when choosing the right eyelash extension length is your eye shape.
Your eyes will have a natural curve, so it's important to choose an eyelash extension length that will fit into this curve.
If you have an extremely straight eye shape, choose an eyelash extension length with more of a curve.
For example, if you have wide eyes and want longer lashes, consider getting extensions with a little more curl.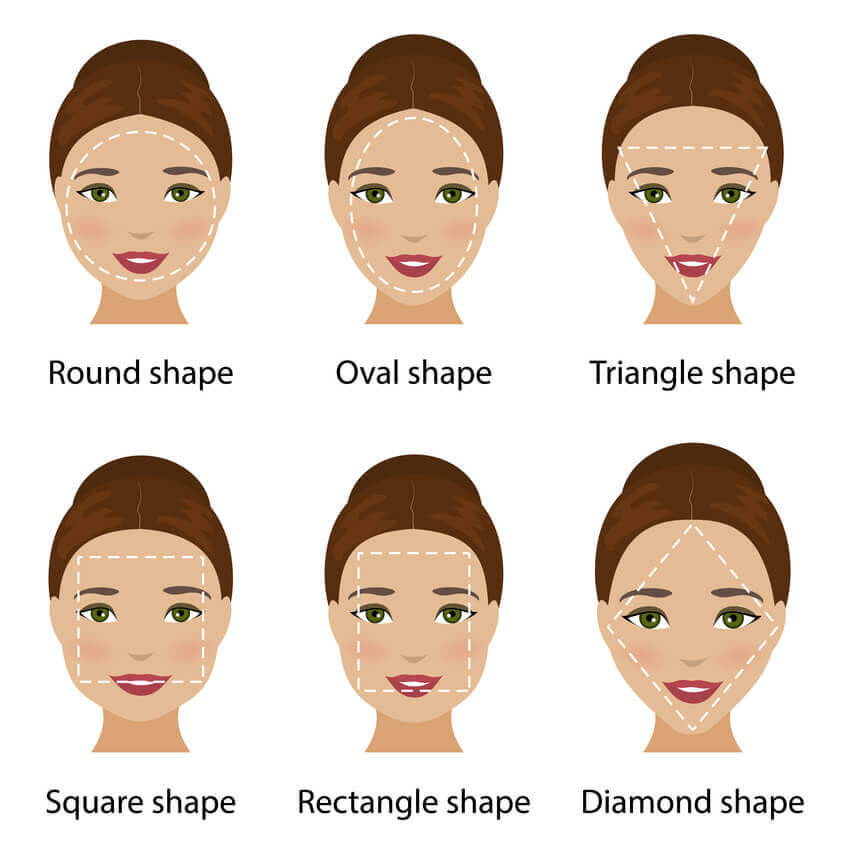 Your face's shape is the most important factor to consider when choosing eyelash extension length.
Your face shape will determine how long your eyelashes will be.
For example, you should choose longer extensions if you have a round face.
You must decide what look you want.
What type of eyelashes do you want? Do you want natural-looking lashes that give your eyes a softer look, or do you want a more dramatic look with longer lashes? The choice is yours.
Next, how short do you want your extensions? Do you want them to be as short as possible and then blend in, or do you want them to be as long as possible and then blend in? Again, it's all up to you.
● Eyelash Extension Volume
2D volume is the application of 2 lashes to one natural lash. This method is for those who desire a fuller look.
It is also perfect for those who have gaps in their lashes, fewer lashes or have lighter-colored lashes naturally.
Also, these lashes are applied like traditional strip lash extensions, one at a time for thin lashes or multiple strips for thicker lashes.
They are usually applied using strip lash glue that adheres to your natural lash line. And then the strip is applied one at a time over your natural lashes.
The advantage of 2D lash extensions is that they last longer than standard strip lash extensions. You apply them one at a time, as described above.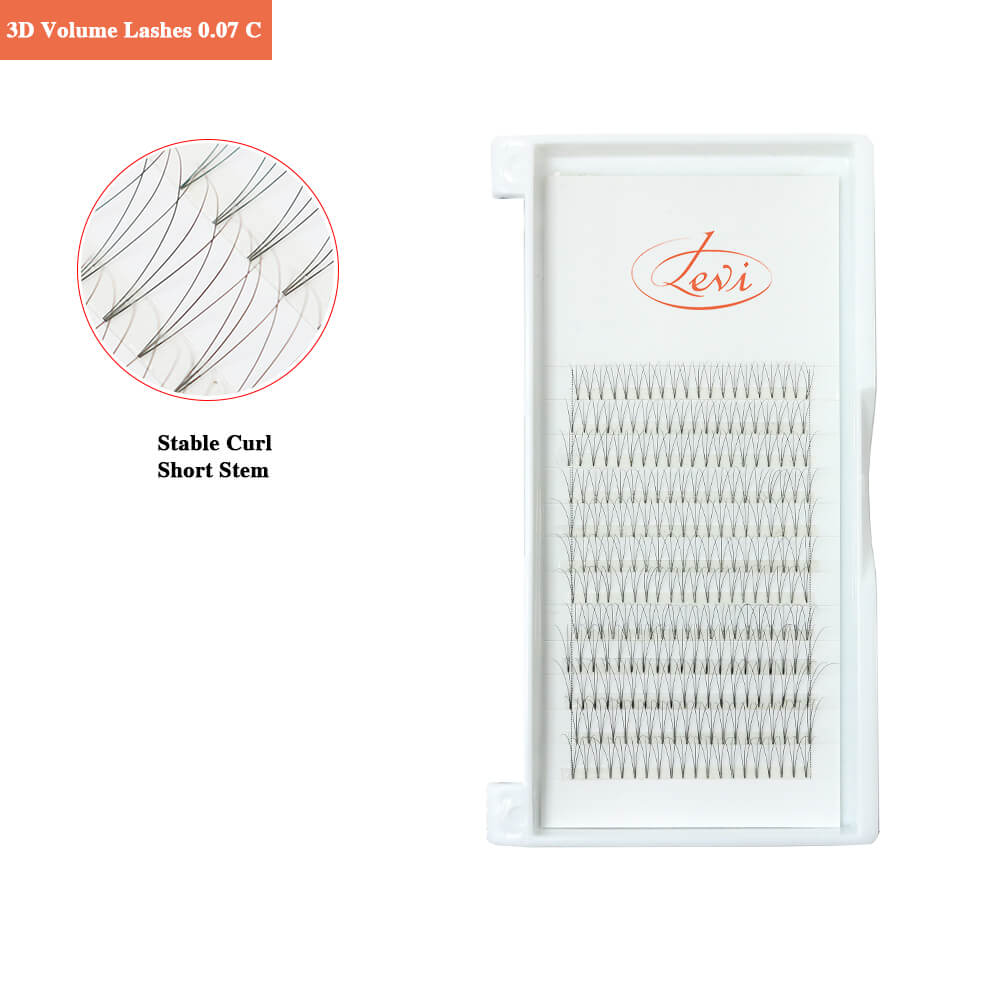 3D volume lashes have three strands of each type instead of just two. This dimension is a great way to achieve a fuller, more voluminous lash look in a 2D application.
If you're looking for a dramatic lash look, applying this 3D is the way to go.
3D volume eyelash extensions offer an additional benefit over traditional strip lashes. Because they can add length, thickness, and fullness to your natural lashes.
If you're wondering if 3D volume lashes are right for you, it depends on the look you're going for.
This design isn't the right choice if you want a more natural look. But if you're going for a bolder, more glamorous look, 3D volume lash is the way to go.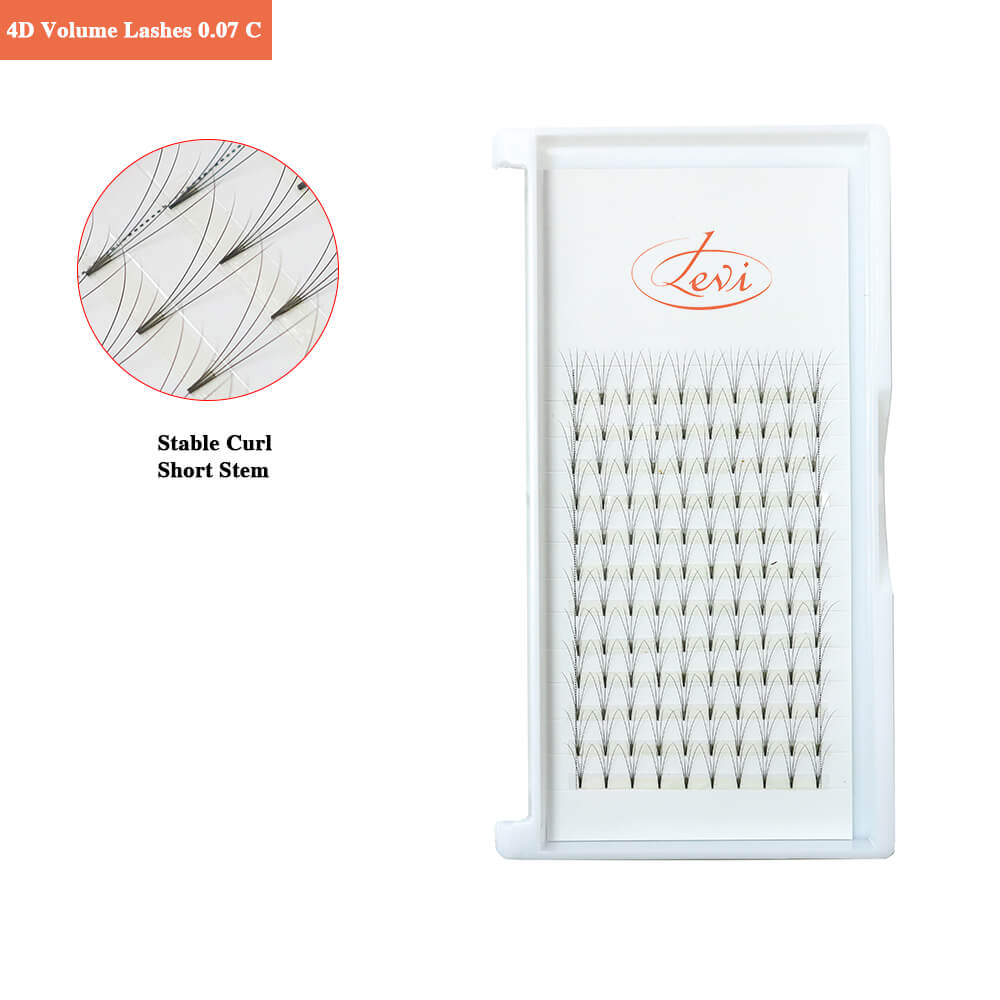 4D Volume Eyelashes are lashes that add volume and thickness. It can create a full and dramatic look more than 3D and 2D.
This eyelash volume contains 4 fans and is applied to a strand of your natural lash. 
They are an alternative for those with sparse or thin lashes and those who want an additional boost in their natural lashes.
4D volume eyelashes look amazing when worn alone or combined with an eye makeup look.
The process of applying these eyelash extensions requires you to get a skillful and experienced stylist who knows how to fix the lashes.

5D Volume Lashes are the most popular extension lashes.
They come in different lengths, thicknesses, and colors. It depends on what you want your new eyelash to look like.
These dimensional volume lashes contain five extensions per fan and are attached to one natural lash.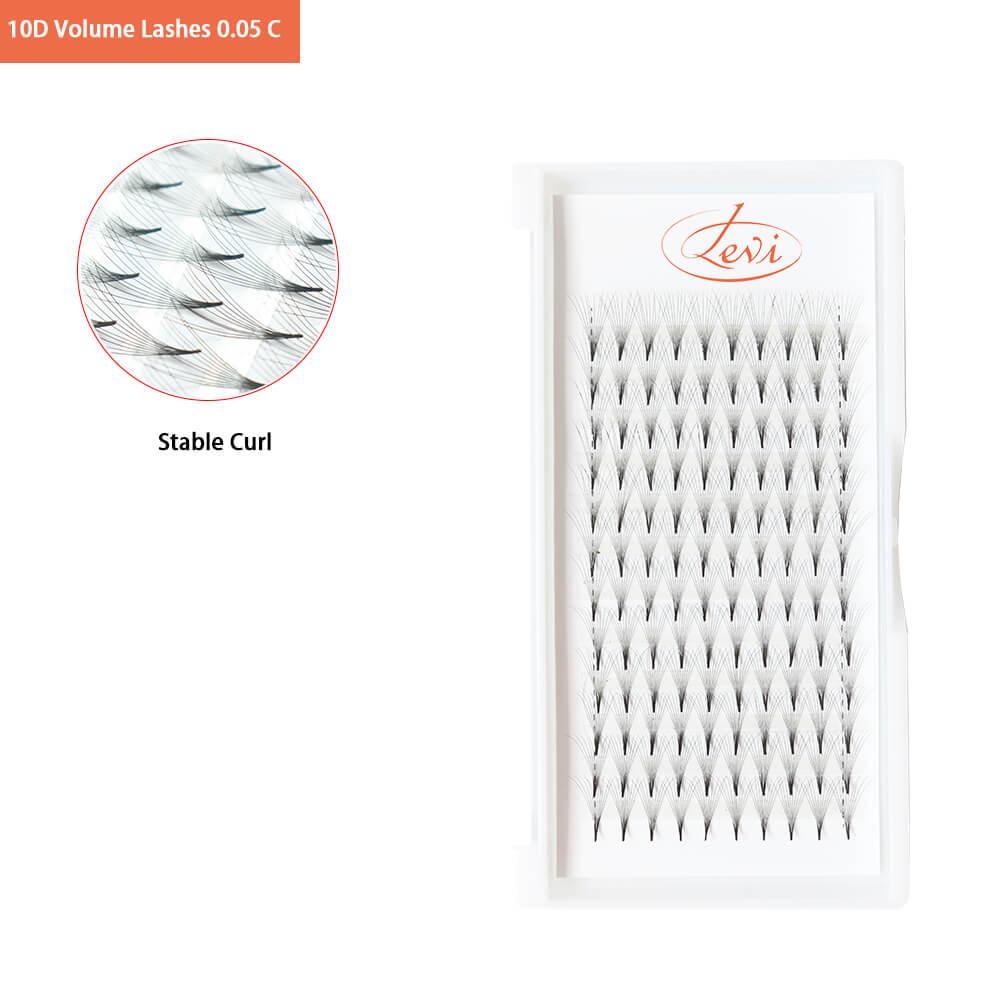 10D volume eyelashes are 10 lash extensions to one natural lash.
This procedure is more advanced than other volume lashes. Because it requires a well-experienced lash stylist to apply them.
This dimension is the best application for those with thin lashes who want to make them appear thicker, fuller, and bolder.
It's not easy to clump together or fall out during the day.
● Eyelash Extension Curl Type
Different types of curls are used in eyelash extensions. And it will give you the look you want on your eyes, whether it's a subtle curl or a dramatic curly look. So what different types of curls can you use when getting eyelash extensions?
J curl lash extension is an eyelash extension that has a J shape or curve. The curl allows them to sit closer together on your lash line. It can give you the appearance of more lashes.
J curl eyelash extensions are often used with natural-looking makeup styles. Because it can create a false lash effect without being too dramatic.
People use these lashes instead of going all out with drama. If you like something in between, this may be perfect for you!
When choosing this type of curl, ensure it matches your eye shape. For example, if you have deep-set eyes, then these will work well. Because it will look like there are more lashes on the inside corners of your eyes.
In addition, if you have round eyes, choose a style where the curls go straight down. It will make them look longer and fuller when not touching at the tips.
B curl lash extensions are a type of eyelash extension where curls are applied in a B shape. It looks more curved than J curl.
The shortest ones should be placed at the base of your natural lashes, closest to your eyes. And while the longest should be placed at the outer corners.
These lashes can take anywhere from 10-12 hours to dry fully before being touched or handled without having them fall off.
C curl eyelash extensions are eyelash extension that curls upwards, like the letter C.
It's perfect if you want your lashes to lay close to your natural lash line and give a more natural look. 
It is also great if you want to wear heavy eye makeup. Because you don't worry about smudging or getting on your eyelid.
D curl lashes are perfect for someone looking to stress their eyes with an added touch of drama. It looks like the letter "D".
But, these curls can be hard to take care of after eyelash extension. And you need to schedule an appointment with your stylist ahead of time.
D Curl lashes go with other curls for a more dramatic effect.
L curl lashes are the most popular type of eyelash extensions. Because they offer the perfect balance between length and volume.
These lashes have a gently tapered end. It is perfect for people with smaller eyes. It can create the illusion that their eyes are a bit larger.
These extensions come in natural-looking and dramatic styles, so you can find one that suits your needs.
● Eyelash Extension Material
There are different materials for eyelash extensions on the market. And each material with its advantages and disadvantages.
And it is important to know what they are before you decide which one to use in your salon.
The three most popular eyelash extension materials used in extensions today. They are mink fur, PBT, and silk.
You will learn everything about them and which material would be right for you.
Mink materials are a popular choice used to make eyelash extensions. Because they are strong and durable. These materials are also very lightweight and soft.
Also, mink lashes are still the most commonly used type of eyelash. So if you're in the market for new ones, this might be a good starting point.
At LEVI Lashes, we have Classic Lashes that are made from mink fiber materials. These premium lashes are stable curl, classic round, and knot free.
Silk Eyelash Extensions are made from High-grade PBT. They are lightweight, soft, and flexible.
The silk fibers can be dyed to match any eye color, so they blend in with your natural lashes.
Silk lashes require more maintenance than mink lashes. Because they will need to be replaced every few months due to their delicate nature.
However, you can remove them anytime without damaging your natural lashes.
These types of lashes are often used on people who have sparse eyelashes, as it adds length and volume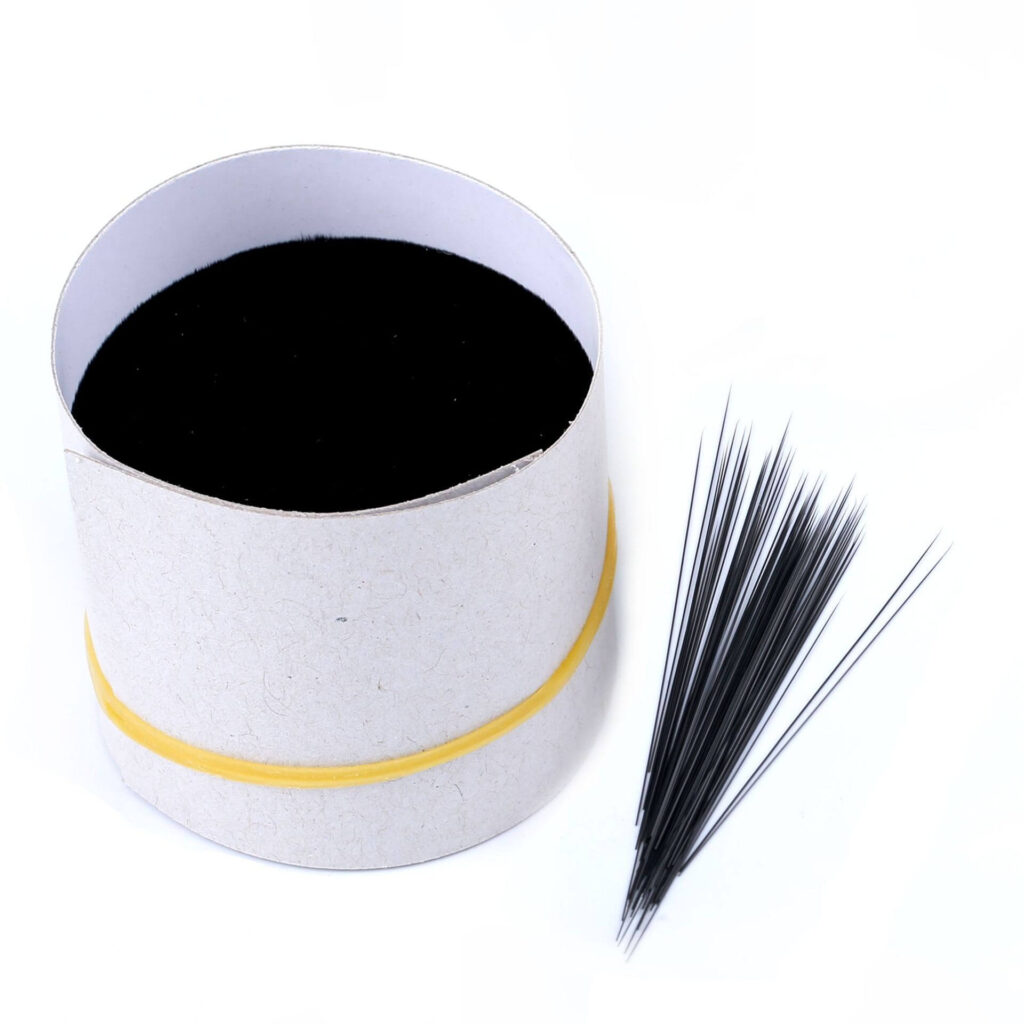 PBT eyelash extensions are the most popular materials because they are easy to apply, comfortable to wear, and lightweight.
They come in a wide range of thicknesses, allowing them to be applied on either full or partial lashes. The PBT material is soft and gentle on the skin and does not irritate sensitive eyes.
At LEVI, you will find a variety of lashes made with PBT fibers. It includes Fat PBT lashes, Mega lashes, YY lashes, Long Stem Premade Fans, Short Stem Premade fans, Hot Melt Root 10D, Hot Melt 20D, Fishtail lashes, and various color lashes.
● Eyelash Extension Thickness
Eyelash thickness refers to the width of the individual lash. The thickness of your extensions is measured in millimeters (mm).
The lower the number, the thinner and lighter your natural lashes will appear. The higher the number, the thicker and darker your natural lashes will be.
The thickness of the Eyelash extension ranges from 0.02mm to 0.30mm.
Lash stylists need to remember that different customers have different preferences regarding how they want their lashes styled. So if you want your natural lashes type, not to use too thick a layer
0.05mm Eyelash Extensions
0.05mm eyelash extension will give you a set of fluffy eyelashes. It will vary depending on the brand and type of eyelash extension you purchase.
0.07mm Eyelash Extensions
0.07mm eyelash extension is perfect for those looking for a subtle look or a natural enhancement.
If you are new to eyelash extensions, this is a good starting point. It can give you an idea of how thick your lashes will look.
0.07mm Eyelash Extension is considered medium thickness. It can be used in natural and dramatic looks depending on how many volumes you want.
0.10mm Eyelash Extensions
0.10mm eyelash extension is the most common thickness in the market.
In general, 0.10mm eyelash extension is the same thickness as your natural lash.
It can be placed on top of them without any trouble. It does not feel heavy or awkward on your eyelids when compared with other types.
0.10mm is a good starting point for eyelash extensions and works for short and long lashes.
0.15mm Eyelash Extensions
0.15mm eyelash extensions are perfect for someone looking for a natural look or wanting to add volume to their lashes without wearing mascara.
0.15mm eyelash extensions are similar to wearing false lashes but with no chemicals or glue involved.
How Do You Take Care Of Eyelash Extensions?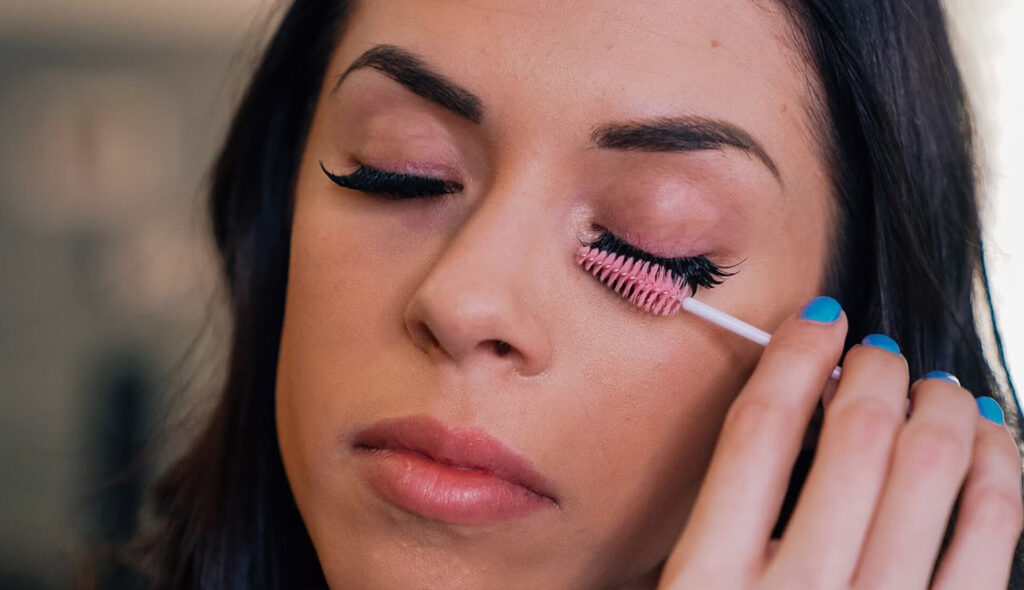 After eyelash extension, it's necessary to take care of it on time.
● Why Is Aftercare Important ?
It is important to care for your extensions properly. Because it will increase your lash extensions' longevity and maintain their shape.
And if you don't take care of it for a long time, it's easy to breed mites
To do this, you must ensure you have the right products and a good routine.
You can get some of these products on LEVI Lashes care kit at affordable prices.
Some of our products are Glue Bonder, Lashes Glue, Scented Lashes Glue, Lashes Jelly Glue, Tweezers Cleaner, Cotton Pads, etc.
As a general rule, if you wear lashes every day, you should do an aftercare routine every night before bed.
If you wear them occasionally (once per week or less), then an aftercare routine might be done once per month instead.
Your best bet is to consult your lash technician about what would work best for you based on how often you use them.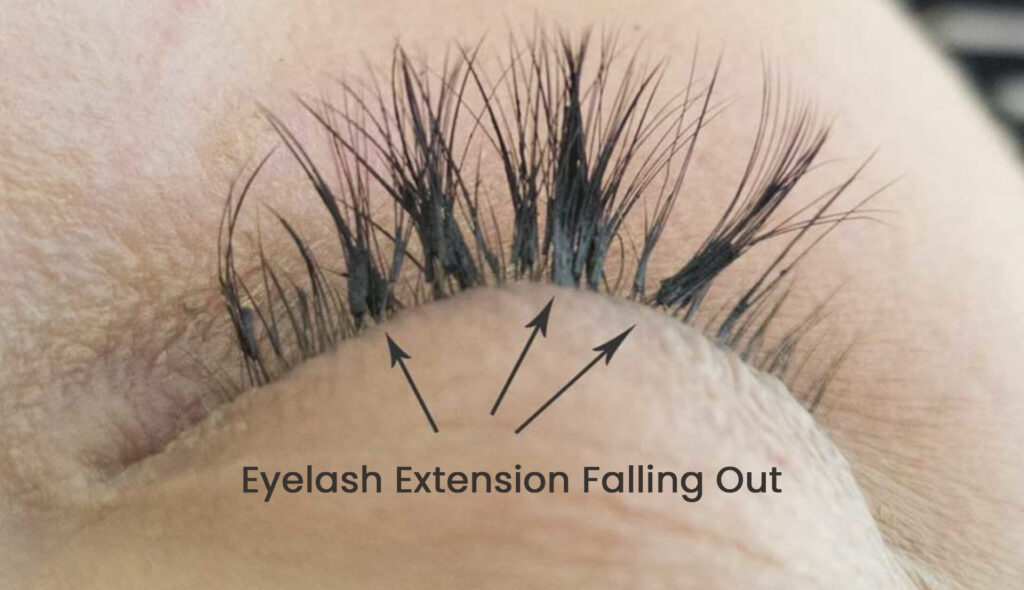 ● How To Take Care of Eyelash Extension?
Eyelash extensions are not difficult to take care of as long as you do them correctly.
I know you want your eyelash extensions to look great and last longer.
So, follow these five simple steps to take care of them so you can enjoy them longer and prevent damage.
Step 1: Keep your eyes free of makeup for 48 hours.
Dusting eye shadow or applying mascara could cause the lash extension adhesive to break down quickly.
Step 2: Avoid using any products with alcohol in them. such as mouthwash, hair products, and lotions that contain alcohol.
Alcohol dries out your skin over time and is bad for lash extension adhesives. Because they are generally sensitive to alcohol.
Step 3: Do not use mascara until extensions are removed or cut off.
Mascara will smudge and may damage your natural lash line.
Step 4: Remove makeup at night before bedtime and use oil-free makeup remover.
And avoid rubbing harshly near the lash line. Because this could damage or remove extensions.
Step 5: Do not rub or scrub your eyes.
Scrubbing too hard will also break down the bond between the extension and the natural lash. It could lead to premature loss of the extension.
Common mistakes people make when taking care of their eyelash extensions:
1. Not following their lash extensions' care instructions
2. Forgetting to clean their lashes
3. Using the wrong cleanser
4. Not using a lash growth serum
5. Pulling out individual lashes (this can cause trauma and breakage)
6. Putting oil-based makeup remover on top of lash extensions
7. Not washing your face every night
These mistakes are the ways you can damage your natural eyelashes over time. However, with the right care regimen, these things won't happen!
How to Clean Your Eyelash Extensions?
Even if you're careful with your lash extensions, they can get dirty. It can lead to clumping and poor application.
So why should you clean them? How do you clean them? And what are the best ways to keep them looking good?
● Why You Should Clean Lash Extensions?
Cleaning your eyelash extensions is one of the most important things you can do. It can prolong the life of your eyelash extension. Plus, it can keep you a clean look and make your eye more attractive.
Gather your supplies: You must have all the necessary supplies before starting.
To clean eyelash extensions, you will need the following:
1. A deep container with warm water
2. An eye makeup remover or lash shampoo
3. A new towel (not used)
4. Paper towels
5. Soft brush
6. Toothbrush
7. Towel
8. Eyeliner
With This Setup, Follow These Steps:
With this setup, follow these steps:
Step 1. Fill a deep container with warm water. And add an eye makeup remover or lash shampoo.
Dip the soft brush into the solution and apply it to a paper towel until no bubbles are left on the surface.
Step 2. Wash your hands before handling or cleaning any of your lashes.
It will ensure you do not transfer oils or lotions from your skin onto the lashes.
You must also wash your hands after removing old glue from your lashes or applying a new layer of glue.
Step 3. Wet a clean microfiber cloth with a mild soap solution.
Use the damp cloth to gently wipe away any makeup residue or other grime from the lashes.
It's important not to scrub your natural lashes when doing this. Because it can irritate them.
When you're finished cleaning, rinse both sides of the eye area with cool water. And while not pulling on any delicate skin areas, such as around your eyes.
Step 4. Make sure you're using a gentle cleanser.
Then, use a cotton swab for hard-to-reach areas such as those in the corners of your eyes.
Remember not to scrub when cleaning so that it doesn't cause unnecessary damage.
Step 5. Remember, the more time you take to clean your lashes, the longer they'll last!
Be gentle when removing residue by rubbing gently with a wet cotton ball.
How Long Do Eyelash Extensions Last?
When you first start researching eyelash extensions, it can be hard to find any information on how long they last correctly.
The longevity of individual eyelash extensions varies from person to person. It depends on their natural lash cycle and how well they take care of them.
A full set of lash extensions generally lasts between two and six weeks.
The most common reason extensions fall out is that they were applied incorrectly. And if you have an underlying health condition such as alopecia, thyroid disease, or hyperthyroidism, it can cause falling out.
It's also important to remember that not all lash extension artists are created equal.
Some are excellent at applying lashes. While others may lack skills, it can cause your lashes to fall out prematurely.
Do Eyelash Extensions Hurt?
Before deciding to get lash extensions, it's important to know the potential risks. It makes the right choice for yourself, your eyes, and your lifestyle.
Eyelash extensions can hurt you if applied incorrectly or used on someone with an eye infection.
For the most part, eyelash extensions can be a safe and effective way to make your lashes longer and fuller.
Generally speaking, the risks associated with eyelash extensions are not very high. Because it is a relatively low-risk procedure.
However, if the applicator fails to apply these correctly, there is a risk of pain for sensitive eyes.
It's important to remember that this process should never be done on someone with an active eye infection or injury.
Because it could potentially lead to serious issues, including blindness and other complications.
We must ensure that only well-trained professionals perform this service. It can reduce the risk of side effects.
If any symptoms occur, it's best to contact your physician immediately.
How to Avoid Damage from Eyelash Extensions
Eyelash extensions make your natural lashes look longer and more luscious.
But they can also wreak havoc on your natural lashes if you're not careful!
Damage from eyelash extensions can be extremely embarrassing and difficult to repair.
To prevent this from happening, follow these five tips for avoiding damage from eyelash extensions.
● Invest In a Good Quality Eyelash Brand
It is important to invest in good-quality eyelashes. It will be more durable and last longer.
What are the benefits of investing in good quality mascara include:
They will give you fuller, longer and darker lashes. It is similar to your natural eyelashes.
They will not fall out easily like fake ones. Because the glue attached to your real eyelashes is stronger than the glue used to attach fake ones.
They will be less likely to break or come off during application (as most fake ones do).
● Avoid Waterproof Makeup
Waterproof makeup may look appealing but damages your real lashes. Because it makes them dry and brittle.
It can cause eyelash extensions to fall out, which can make you look older than you are!
The most common cause of damage to eyelash extensions is getting them wet.
If you go swimming or have a long hot shower, your eyelashes can swell up and cause breakage.
You should be able to avoid this by applying waterproof mascara before applying your eyelashes.
And you can use non-waterproof mascara if you must get them wet during the day.
Oil can help prevent breakage when applying eyelashes. But too much oil can cause your lashes to too. Become heavy and drag down on your eyes as they grow over time.
A good rule of thumb is only to use 1-2 drops of oil per eye when applying your lashes before putting them on (and again after removing them).
If this seems too much work, consider purchasing an oil-free waterproof lash serum. It will protect against the damaging effect of oils.
● Be Gentle When Applying
You don't want to damage your eyelashes by pulling on them too hard or too roughly.
To do this, apply the oil sparingly and be gentle with your lashes.
It's also important not to press too far into the roots of your eyelashes with the brush.
You should only need about 1/4 of an inch from the lash line to break through the root of your lash.
Can You Swim With Eyelash Extensions?
Being able to swim with eyelash extensions is a big question for many people.
There have been some reports of people swimming with eyelash extensions.
But the results are mixed. Some people have had no problems, while others have had some issues.
The biggest issue is infection or irritation due to the glue used in the eyelash extensions.
If you notice any redness or discomfort after swimming, avoid going into the pool until you can get new lashes or remove the old ones.
How Much Do Eyelash Extensions Cost?
The price of lash extensions depends on the type used and your desired look.
Eyelash extensions can range from $120 to $300.
It will cost you more if you want to add volume, density, or curl to your lashes.
Eyelash Extensions are available in different lengths and thicknesses.
Some are very thin and barely noticeable, while others are thick enough to make your eyes appear larger.
The price also depends on whether you want natural-looking or dramatic-looking.
How Do You Sleep With Eyelash Extensions?
You can sleep with eyelash extensions, but you must be careful.
You need to avoid sleeping on your face. Because this will cause the lashes to rub against each other and break off.
You should also be careful about what you do in bed. Because if you roll over onto your pillow or pillowcase, you could break off some of your lashes at night.
If you want to sleep with eyelash extensions, it's best not to sleep on your side or stomach.
Because these positions can cause the lash follicles to rub against each other and break off.
It's also best not to cross your arms over your face or curl up into a ball in bed. Because this will also increase friction between the lashes and cause them to fall out faster.
How to Remove Eyelash Extension?
To remove eyelash extensions, you need to contact an eyelash extension specialist. But if you are in haste, you can do it yourself. To DIY, follow these steps:
Get your face washed, and be careful not to scrub it too hard. The reason for doing this is to remove any settlement on your face.
● Step 2: Application of Hot or Steam Water
Prepare hot water or a steam bath to weaken the lash adhesive. This method will dissolve the lash adhesive in your natural eyelash for easy remover.
● Step 3: Apply Oil-Based Makeup On a Cotton Pad
Use oil-based makeup to remove the lashes gently.
We suggest an oil makeup remover that contains glycols. Because they dissolve the adhesive bonds faster.
Put the oil-based makeup remover on your cotton pad and apply it gently to your lashes.
It will detach the bonds of the glue to your eyelashes from your natural eyelashes faster.
Avoid pulling the eyelash extension by force.
Instead, rub a small amount of oil over each set of eyelashes to loosen up the glue. And then wipe it away with a cotton swab dipped in baby shampoo.
Ensure to keep your eyes closed tight when doing this! Afterward, rinse both sets of lashes under warm water and gently pat dry.
Apply a thin layer of coconut oil along the roots and ends of your natural lashes for added hydration.
Finally, apply Vaseline to the inside corners of your eyes (where you've applied false lashes). It can protect against irritation caused by wearing false lashes for extended periods.
Eyelash Extension is a great alternative for people who don't have much time to do their makeup.
It will make your eyes stand out and will make you feel that you look fabulous.
You will feel like a princess when getting eyelash extensions.
At LEVI, our lashes are original false lashes for elegant women.
We mainly produce fabulous and fluffy eyelashes that are designed and manufactured in-house.
Also, we deliver in-store and online.
You can trust your false lashes brand for durability and excellent designs. 
Get an Eyelashes Catalog today by clicking here.